The vibrating screen exciter is a component of the screen that generates the vibrational motion to facilitate the screening process. It is a device that creates the vibrational force necessary to produce the required acceleration and displacement of the screen surface.
The exciter typically consists of a housing, an eccentric weight or weights, and a rotating shaft. The eccentric weights are mounted on the shaft, and as the shaft rotates, the weights produce a centrifugal force that creates the necessary vibrational motion.
The frequency and amplitude of the vibration can be adjusted by changing the rotational speed of the shaft or adjusting the position of the eccentric weights. The exciter is typically located at the center of gravity of the screen, which helps to maintain the balance and stability of the system.
There are various types of vibrating screen exciters available, including unbalanced and balanced designs, and different types of drives, such as direct drive and indirect drive. The type of exciter used will depend on the specific application and the size and type of screen being used.
Working principle of vibrating screen exciter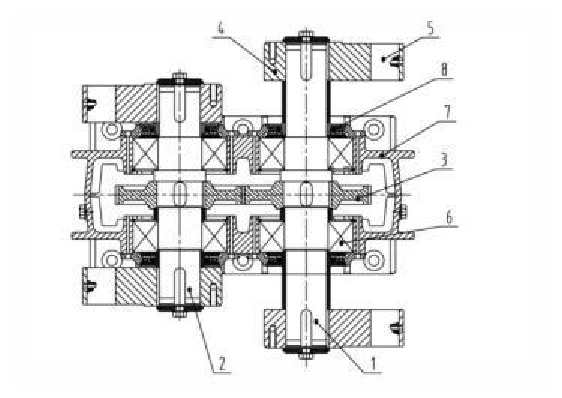 The picture on the left shows the mechanism diagram of the vibration exciter. The box is equipped with driving shaft 1 and driven shaft 2, each with a pair of 4 eccentric blocks with the same weight at the shaft end. The power drives the driving shaft to rotate, and the driven shaft rotates relatively and synchronously through gear pair 3. The centrifugal inertia force generated by the unbalanced weight rotation is used to generate directional excitation force for the vibration exciter. By adjusting the rotational speed of the eccentric block, the number and position of the inserts, and changing the unbalanced rotational weight, the magnitude of the excitation force and working torque can be adjusted. Fill the sealed box with Gear oil to lubricate and dissipate heat of gears and bearings, and ensure stable transmission and reliable operation.
Technical features and advantages
The self-synchronization principle is used to make the vibrating machine produce linear vibration.
When working, fix the exciter on the excited part, and the excited part will obtain the required vibration.
Lubrication methods: grease lubrication and thin oil lubrication, customized according to customer requirements.
The motor is installed on the fixed base on the side (left or right) of the vibrating machine. The motor does not participate in vibration, and the motor is connected to the vibrator with a universal joint shaft.
The eccentric block is easy to adjust and disassemble.
The design life of the bearing is more than 10,000 hours.
Both contact and axial labyrinth seals are used for good sealing performance.
An oil injection hole is set above the casing to ensure good lubrication of the bearing.
It has the advantages of light weight, small size, simple structure, convenient installation and maintenance, and long service life.
It has the characteristics of stable and reliable operation, flexible adjustment and small maintenance.
The service life is 1-3 years.